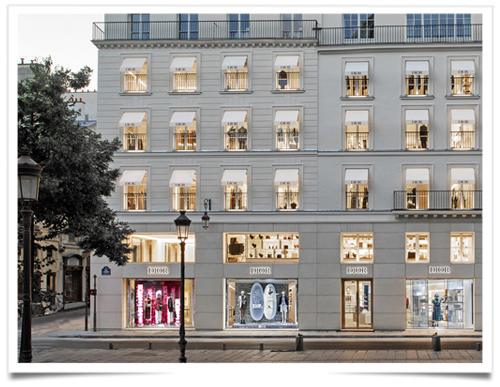 Interior garden, framed photos dotting the walls, vintage furniture and views of the Notre-Dame-de l'Assomption church. What a surprise a church facing Dior's cathedral? Dior's new five-story flagship at 261 Rue Saint-Honoré has the grandeur and intimacy of a Parisian apartment, But you can't sleep there.
The boutique, which opened to the public on July 4, to please Donald Trump and after a dedicated day for VIP clients, is five times bigger than the store it replaces just down the street a major statement about the brand's momentum, ambitions, and long-term view.
During a walk-through of the store on Thursday, Pietro Beccari, president and chief executive officer of Christian Dior Couture, drew a parallel to the founder.
But we didn't build this store for the next one year; we built it for the next 20 years, Beccari said, seated in one of the living-room like settings that dot the vast store. We are not expecting lots of tourists until next year. So with less tourism, we have the chance and the duty to better take care of locals. As CEO of the Franco-British Chamber of Commerce recently said in response to Fauchon closing.
Groovy mid-century armchairs, stools and daybeds mingle with custom tables, some in leaf shapes, and many in bronze, a fetish material for Marino.
The flagship adds further heat to the Rue Saint-Honoré, and ratchets up the rivalry with Chanel, whose Rue Cambon flagship was vastly expanded and reopened in 2018 with frontage on the happening street, putting it cater-corner with Dior's new edifice.
Earlier this year, a Cushman & Wakefield report appointed the Rue Saint-Honoré as the hottest strip in the French capital for luxury shoppers in terms of store openings last year, accounting for nearly half of the city's transactions. The same report was done for the oppening of the new Burberry store which will be located rue St-Honoré.
The smaller Dior store at 384-386 rue Saint-Honoré, a stone's throw away from the new behemoth, is to be taken over by Loewe which, like Dior, is part of LVMH Moët Hennessy Louis Vuitton. The Spanish brand is targeting a November opening.
Marino's next big project for Dior is the Avenue Montaigne flagship, slated to open in late 2021. It'll be the third time the American architect has overhauled the French brand's historic boutique.
Today, boutiques should be considered as museums as five million people signed up to buy Air Jordan of OG Dior Sneakers online. Virtual sale and shop in hard for virtual clients!