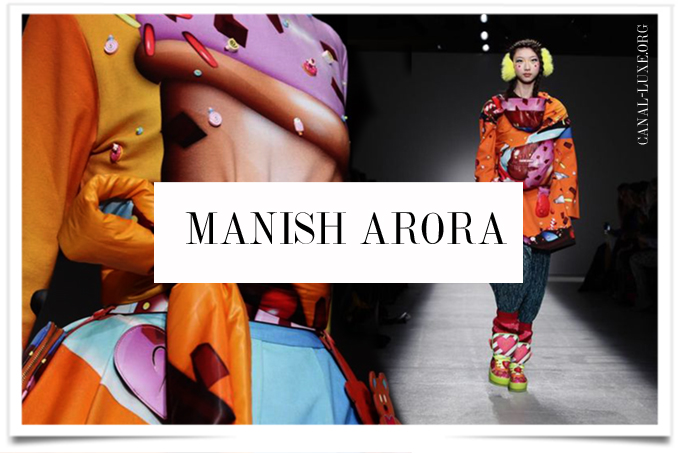 For Autumn-Winter 2014 Manish Arora presents a candy tribe of sweet-toothed nomads and gummy bear gypsies. Oversize ice-cream prints and sugary landscapes adorn Peruvian circle skirts and drop-waisted ancient Chinese workers' trousers, worn over lurex thermals and long-johns. Knife pleats come in floor length gypsy skirts and layered print dresses.
A sporty youthfulness runs throughout the collection – specially created signature sneakers flash with each step thanks to built in LED lights, hooded puffa capes are printed in waterproof techno fabric, and sporty nylon backpacks double as babies slung on the back or swaddled in front. Miniature hot water bottles and hip flasks keep our nomadic wanderers warm on their travels. A colourful cast of characters makes up Arora's roaming clan of saccharine heroines – futuristic galaxy girls, infatuated flower girls and candy-striped baby-mothers, boyish utility girls and space travelling tomboys, velvet-clad widows and optimistic brides.
Arora's characteristic embroidery manifests itself as cupcakes and donuts, ice-creams and lollipops, on striped knitted sweaters and tanks, sequin tops and capes, velvet skirts and dresses, and Laplandic pom-pom hats topped with multi-coloured fur cherries, hearts, moons, and gummy bears. Ethnic inspired gold jewellery crowns the head and decorates the hands in multi-chain pieces that are updated with the same colourful sweetie elements.