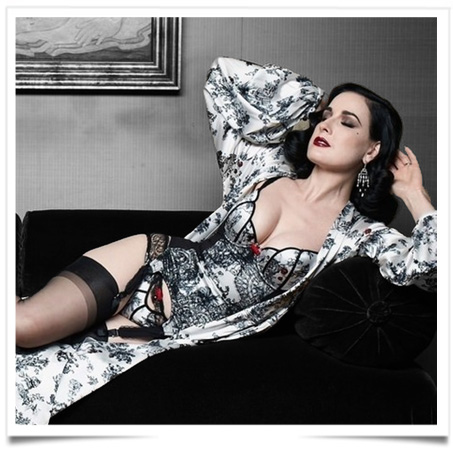 The Parisian shoe designer has teamed up with American burlesque star Dita Von Teese on a new capsule collection. The seven-piece line includes a bra, bodice and suspenders, all featuring black lace and an all-over print designed by Louboutin, and also decorated with red Swarovski crystals.
The print includes Rococo style scenes with sexy burlesque dancers, French maids and male lovers draped in sheets, as well as Louboutin's famous red soled shoes, of course.
Burlesque overlaps in meaning with caricature, parody and travesty, and, in its theatrical sense, with extravaganza, as presented during the Victorian era. "Burlesque" has been used in English in this literary and theatrical sense since the late 17th century
The 'XXXtian' pieces are available exclusively from Glamuse.com and prices range from €104.90 for the knickers all the way up to an Italian silk robe priced at €899.90.