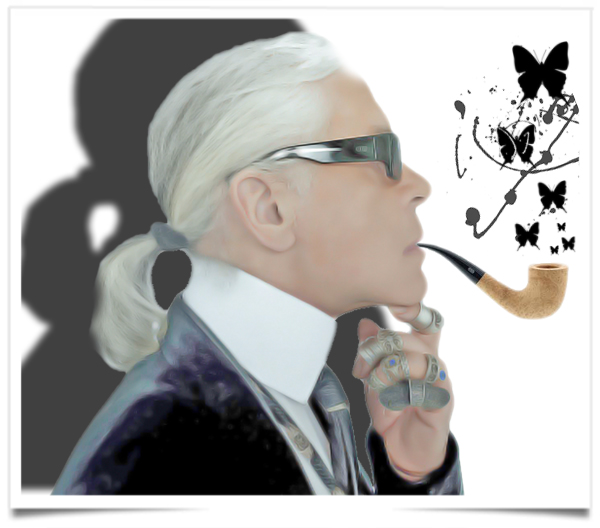 It was a Big bang that the Lagerfeld for H&M project while he had never visited an H&M store himself, the designer noticed young people in his studio wearing its clothes, and he knew it eclipsed all other fashion brands withe of its mighty distribution network, then numbering about 1,000 stores in 19 countries.
Yet the designer reasoned that a sketch for a Chanel couture dress, Fendi fur coat, Lagerfeld Gallery blazer or H&M shirt involved the same process, cost and effort the design component being the most important. He proved that fast-fashion can also be creative.
Karl had never done mass market and he loved a challenge. He proved he could do an elegant line, but less expensive.
The H&M project magnified Lagerfeld's fame, as he based the coed range on his emphatic and graphic personal style, hinged on high-collared shirts and lean black tailoring. H&M even included his fingerless driving gloves and a T-shirt bearing a sketch of his face.
H&M had a stellar success in the Eighties and Nineties. They were the hottest fashion retailer. But by the late Nineties competitors had caught up. So H&M needed some sort of a big bang to further establish its leading position. And this first designer collaboration with Karl Lagerfeld in 2004 did that magic.
Launching the collection on the same day in all countries was an almost impossible logistic stumbling block in 2004, but now Amazon corrected this axis.
Also, Karl had just completely reinvented his persona, just completed his diet to fit into Hedi Slimane's skinny Dior suits, started wearing lots of Chrome Heart jewelry, several rings on every finger Karl the rock star! It was the perfect moment to have Karl himself starring for H&M
Did he have to get the permission of Chanel and Fendi to proceed? Or anyone else?
In fact no, he didn't have to ask anybody for permission. Karl said that he has a contract for life with Chanel and can do whatever he wants in his own name. that nthe way it is.
Anonymode