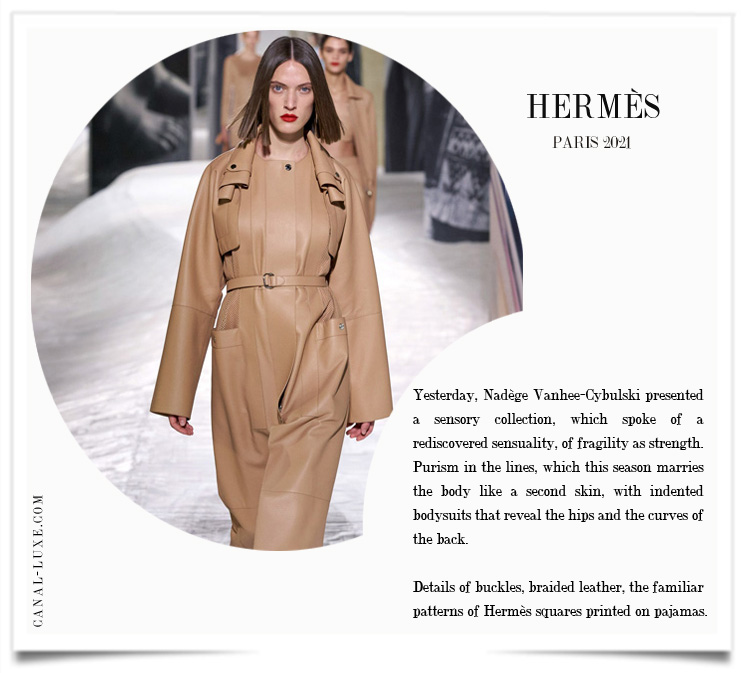 Yesterday, Nadège Vanhee-Cybulski presented a sensory collection, which spoke of a rediscovered sensuality, of fragility as strength. Purism in the lines, which this season marries the body like a second skin, with indented bodysuits that reveal the hips and the curves of the back.
A utilitarian, calibrated luxury, a garment with which one is at one with and which leaves nothing to chance: details of buckles, braided leather, the familiar patterns of Hermès squares printed on pajamas. A key element of the collection, the apron comes in a straight dress, pants or a strappy skirt whose cutouts subtly recall the H of the house, like the lines of a jacket falling over a bra.
Cage dresses rest on the body like light armor, the color of the garment marries that of the skin, soft coats and roll collars accentuate the idea of utilitarian comfort.
Trompe l'oeil suits are worn as overalls. This collection is that of a freedom to reinvent, a collection that dreams of a new link, a new spirit. Nadège Vanhee-Cybulski has brought to the Hermès silhouette just enough suppleness to give back to the garment its intimate dimension, its link with the body, that of a woman who gradually regains her freedom of movement, a new concept?