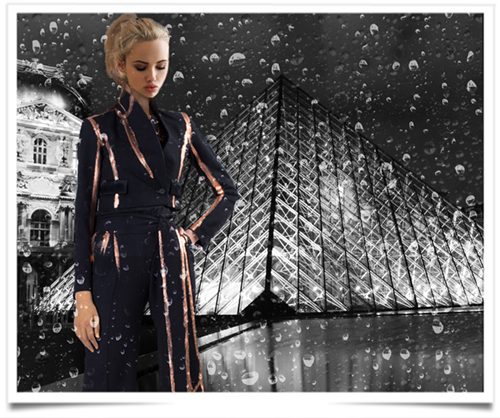 Always been attracted by the world of fashion, Eric Tibusch reaches Paris at 18 years old, is comming in Corsica island.
Recognizing the talent that lives the young man, Jean Paul Gaultier clear responsibility of his shows abroad. With eight years alongside a major current masters of haute couture, knowledge that Eric Tibusch continue to develop and refine. When he left Jean-Paul Gaultier, Eric Tibusch was offered the leadership of a new development program for Kopenhagen Fur Company in 2005, during which he collaborates with houses like Karl Lagerfeld, John Galliano …
Following its various experiences Eric Tibusch opened his own house of couture in July 2006, the name of his first collection was "happiness", a tribute to his two heritages: Tahitian and French. Convinced that there is a modern and affordable fashion, he likes to call it "young couture", he dedicated his art to the use of materials that are both luxurious and technology. Unconventional and visionary creator, he created in 2010 a chocolate dress for the Chocolate Fashion show in Paris and New York. The same year, he was commissioned to create the costumes of the characters Jake and Neytiri from James Cameron, Avatar for the global launch of the DVD and Blu-ray at the Virgin Megastore in Paris.
He dusted off the catwalks around the world by organizing presentations collection. In October 2012, he launched his first ready to wear women collection.It participates in international events such as the Festival of Cannes and Marrakech and works closely with film artists and music.Today the designer diversifying its activities by extending its creativity ready to wear, to men's fashion and jewelery. The next Miss France will be from him,  and some information said he will be soon the next Fashion Designer to have the Haute couture Label.
This year is opening a flagship in China, and continues to develop his group.We need cash flow to continue to develop, so if an investor is interested by this venture, please contact us to discuss it.
La Maison de Haute Couture Eric Tibusch
Shenzhen
Dalang Nanguo Li Ren.
China