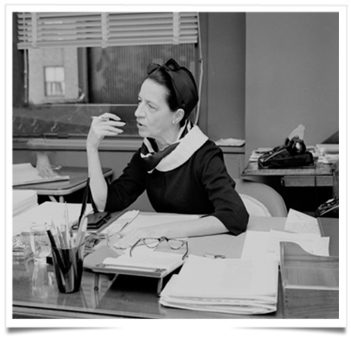 Diana Vreeland (September 29, 1903 – August 22, 1989), was a noted columnist and editor in the field of fashion. She worked for the fashion magazines Harper's Bazaar and Vogue and as a special consultant at the Costume Institute of the Metropolitan Museum of Art. She was named to the International Best Dressed List Hall of Fame in 1964.
She was born as Diana Dalziel in Paris, France, at 5, avenue du Bois-de-Boulogne (Avenue Foch). Vreeland was the eldest daughter of American socialite mother Emily Key Hoffman (1876–1928) and British father Frederick Young Dalziel (1868–1960). Hoffman was a descendant of George Washington's brother as well as a cousin of Francis Scott Key.
Diana Vreeland "discovered" actress Lauren Bacall in the 1940s. A Harper's Bazaar cover from the early 1940s shows Lauren Bacall posing near a Red Cross office. Based on Vreeland's decision, "here is an extraordinary photograph in which Bacall is leaning against the outside door of a Red Cross blood donor room. She wears a chic suit, gloves, a cloche hat with long waves of hair falling from it".