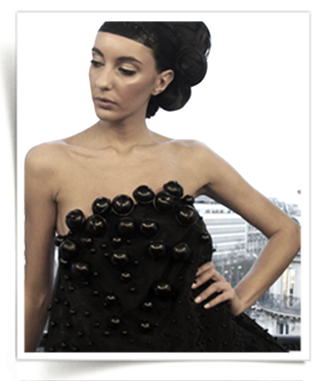 Bowie Wong was born in Hong Kong, China in 1969. As the son of a Chinese opera singer, Bowie spent his childhood surrounded by stage costumes, to which he showed interest in design and fashion at an early age. As a teenager, he studied Pure Design in Japan and carried on his studies in Canada, where he learned the art of Stage and Costume Design.
Yesterday in front of LVMH building,we could have thought that there were riots as there was a queue for the first Bowie Wong's Haute Couture collection in Paris. This French Canadian Japanese Chinese's designer is patronned by Elie Saab who has been following his career for a few years now.
Bowie Wong is a very promising Haute Couture Designer and Canal-Luxe will pay to him a specific attention in the future. For his first presentation to Paris Fashion show, Bowie presented three dresses which showed his potential in designing for Haute Couture. OH! OH! Susy Menkes was in the lift. That sounds pretty good for him. To my opinion, Mr. Tolenado from Dior, you should have a look at this international designer to replace Ralph Simmons for your next collection.