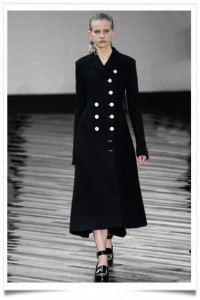 The silhouette Céline is more streamlined this Spring. However, coats fit close to the body with cocoon-like shapes while knits are long and lean worn over wool skirts.
She likes her luxury understated but still statement making- looking for comfort but not at the sacrifice of style. A woman that forges her own fashion path with no regard to what the rest of the industry is up to. Basically, designer Phoebe Philo, who has turned the Céline brand into a mirror image of herself.
Last season's painterly brush stroke patterns made way for jungle cat spots, subtly smudged to dilute their powers. Which was not the case for the dramatic almost porcupine quill-like feather embellishments that sprouted out of the final three looks.
As for the always-inventive accessories, the designer seems to feel that Winter sandals are the way to go. Platformed up to keep feet dry when walking through Winter snow. And that all important the Celine's Continue reading →