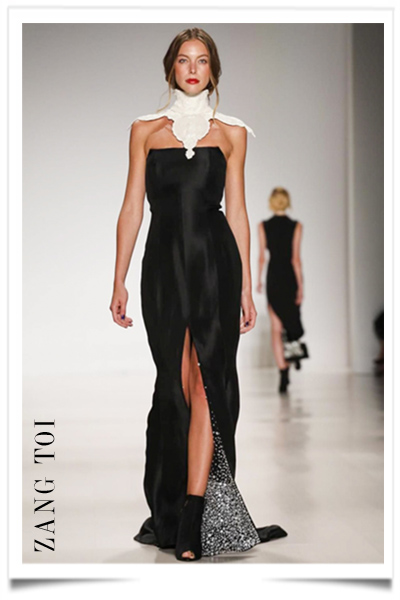 Zang Toi established the, "House of Toi" collection in New York in 1989. Malaysian-born Zang Toi is a graduate of the famed Parsons School of Design. Toi burst onto the scene with vibrant hues and bold designs. Over the years, Toi's designs have evolved from the bright and decadent of the 1990s to the timeless yet modern lines of the turn of the century. No matter what the trend, Zang Toi creations are chic and glamorous, always highlighting the beauty of the female form. All hand made in New York with the most luxurious materials, all unique, all Zang Toi.
Zang landed in New York City at the age of 20 where he studied at the distinguished Parsons School of Design. In 1990, Zang was awarded the Mouton Cadet Young Designer of the Year which recognizes the top, young, U.S. designer of the year.
Since that time, Zang's work has been featured in major publications such as Canal-luxe, Vanity Fair, Time, Newsweek, The New York Times, Financial Times, etc. Not only has he dressed Hollywood celebrities such as Sharon Stone, Elizabeth Taylor, Farrah Fawcett, Kristie Alley, Patti LaBelle, Gong Li, Eva Longoria, Fergie (Black Eyed Peas) and Heather Graham, but has also created luxurious wardrobe for philanthropists and royalty including Melinda Gates and Saudi Princess Haifa Bandar Al Saud.
Zang's continued success was most recently recognized by Canal-Mag where he was named as one of the Top 8 most influential Chinese Americans. Today, the world continues to recognize Zang's passion for timeless beauty as he builds on a strong tradition of elegance.