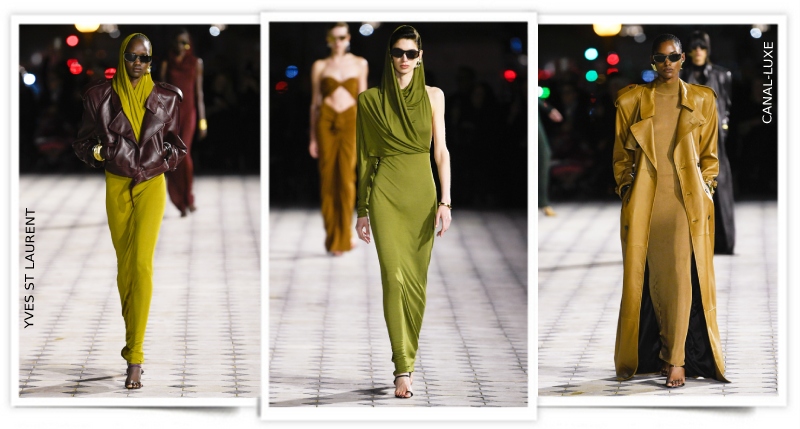 With a slew of beautifully rendered dresses cut from jersey in two different weights, one heavier and opaque, giving a more constructed look, while the other lighter, Vaccarello explored all the draping and hooding.
These dresses were slipped under sweeping great coats and trenches that fell in narrow columnar proportions from big shoulders in leather, tweed, or wool, or under capacious blouson jackets that were nipped inward as they got closer to the waist in leather.
The colors are soft browns, purples, camels, olives, and taupes, emphasized by the substantial jewels. Sandals with barely-there vamps and satiny pumps with metallic shades were everywhere. We combined everything into a finished, polished, considered look: A riposte to the notion that we are slipping into bland, dull, uniform, social media hyped 'cool'.
However, '30s or '80s didn't matter. Where we are at the moment is what drives Vaccarello. His goal is to always stay in the present, regardless of historical references.
Vaccarello's dressing is empowering. It doesn't hinge on outward gestures like shoulder width, heel height, or skirt length. When 1980  dream it's come trought.