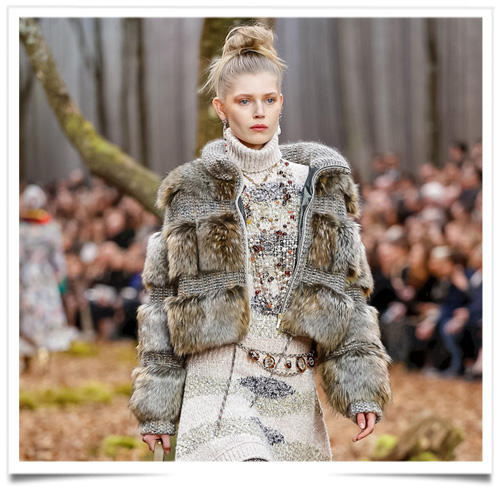 Vuitton in the Louvre make sence ! Nicolas Ghesquière attended at the Chloe show, next to Wintour ! Maybe Nicolas will leave to the Richmont group who knows ? For this collection Women were at the core of his fall display, which explored quintessentially French notions of elegance. The cropped jacket on a gray buttonless skirt suit was trimmed with spiky metal medallions and chains fine strands sprouting from its embroidered collar, or thick links decorating faux pockets.
Trouser suits and cocktail dresses were paired with graphic waist trainers, the corset-like belts made popular by Kim Kardashian, though their impact was diluted by attaching them to draped halter-neck tops that drooped lower over one breast.
In contrast with last season's Archlight sneaker, models wore ladylike heels with graphic harnesses strapped across the foot. As they sped down a dramatically lit ramp in an inner courtyard of the Louvre, rain pelting on the transparent plastic roof overhead, it was easy to get lost in the majesty of the 19th-century setting.