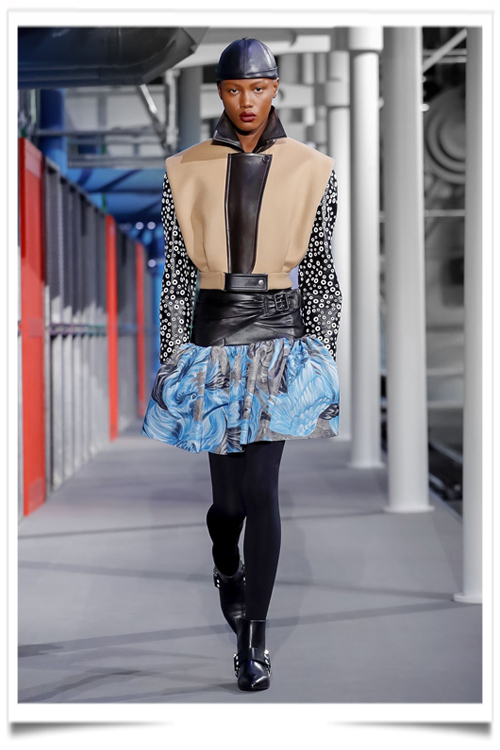 On Tuesday evening, guests arrived at the venue to discover a reproduction of another Paris art institution, the Centre Pompidou, built by architects Renzo Piano and Richard Rogers, in a groundbreaking style that caused an uproar when it opened in 1977.
Since Nicolas Ghesquière presented his first collection for Louis Vuitton inside the Louvre's Cour Carrée in 2014, he has often used the historic museum as a backdrop for spectacular sets with a futuristic bent.
Why the world's largest luxury brand would build a faithful copy of a structure that is only a mile away in real life was something of a mystery one that Ghesquière cleared after the show: The collection was inspired by his people-watching at Café Beaubourg, which overlooks the vast square in front of the Pompidou.
Indeed, the variety in the collection felt overwhelming at times, as the eye jumped from Ghesquière's familiar jutting shoulders and ballooning sleeves, to Eighties-style power suits, to a Cyndi Lauper-esque bustier dress dotted with silver stars and polka dots.
In that sense, it took its cue from the leather goods, which account for the lion's share of revenues at Louis Vuitton and cover a wide range of aesthetics, from an egg-shaped bag in classic Monogram toile to a $30,000 crocodile leather Capucines, or a novelty clutch based on Grace Coddington's cartoon sketches of her cats.
"I am happy to be misunderstood sometimes," the designer said, like Beaubourg few years ago.