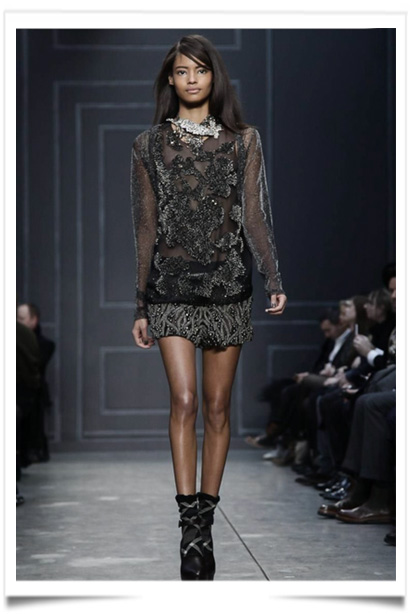 Vera Wang's romantic and eccentric designer worked on a creative line between youthful irreverence and an after dark refinement that made a surprisingly successful mash up.
The show started  with moody Winter daywear. These pieces, from an enveloping coatdress to a full swing skirt came cut in a charcoal and black tartan pattern often worn head to toe. However Wang's juxtaposition of different fabrics (wool, printed georgette and satin chiffon) made the show less monotonous.
The addition of some bejeweled insect brooches, necklaces and luxe tops with images of a bug or the phrase "you bug me" injected a fun insolent attitude into the show. But trying to wear the designer's maxi platform high heels in the Winter snow next season would surely mean running the risk of losing life or limb.
From there Wang started to loose things up considerably with fluid tops and floor length coats which feature hazy blooms- a print treatment that quite a few designers have introduced in their collections this week.
After so much solid daywear Wang took an odd detour with her evening attire. The transparency of her folded chiffon trapeze dresses and the see-through silk tulle gowns that closed the show somehow undermined all the solid groundwork laid out in the first half of her collection. These were pieces never meant to see the light of a Winter's day, and possibly not even a Summer's day.
But there were more than enough desirable pieces in this show to keep Wang in good stead with buyers for next season.