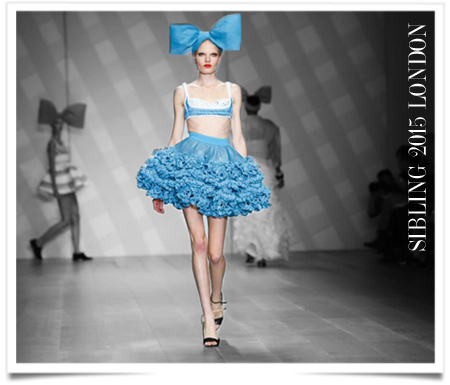 Sibling's irreverent signature is even made sweeter this Spring/Summer 15 remembering "candy" sweet and bringing joyce on the catwalk. The collection served the 80's optimism of New York City through the lenses of photographer Amy Arbus.
The spirit of dress and undress, in bed and out-of-bed that resonates deeply in Maripol's work was keenly felt in the collection. Madge's legendary "Like A Virgin" wedding dress was heavily referenced in the centre pieces of the collection.
Sibling's theatrical treatment is unparalleled and, more impressively, the trio — Joe Bates, Sid Bryan and Cozette McCree — achieved high impact purely on the basis of their craftsmanship, proving season after season that resource is better spent on product than ostentatious presentation, especially among emerging brands.