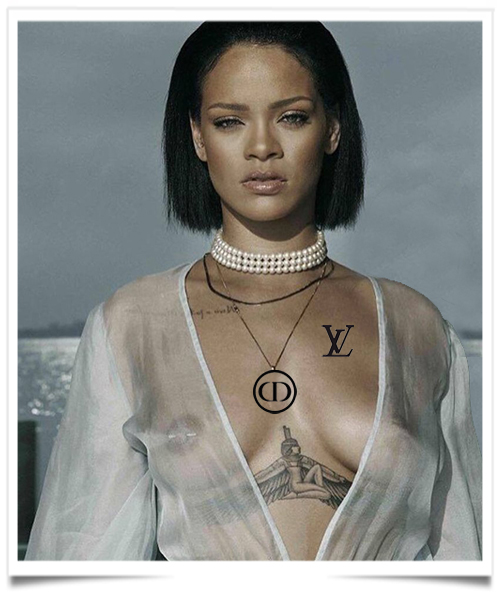 After months of hype, LVMH and Rihanna's fashion venture is finally materialising. The superstar is set to present her first collection for the new label, which will be branded Fenty, on May 22 in Paris. The label will span ready to wear, accessories, sunglasses, jewellery and shoes.
"Mr Arnault has given me a unique opportunity to develop a fashion house in the luxury sector, with no artistic limits."
Fenty is the first fashion brand launched from scratch by LVMH since Christian Lacroix was founded in 1987. LVMH wants probably to compete with the Kardashian Familly. The war between Bimbos is open.
The Bimbo naturally finds her full place within LVMH. To support Rihanna to start up the Fenty Maison, they have built a talented and multicultural team supported by the Group resources. LVMH puts at her disposal a model & a designer as Rihanna does nothing apart from singing.
But also give nearly €30 million of "in-kind" contributions to the venture meaning she's offering up €30 million worth of her time, Ho, Ho, happy Lord !
The gift is also 70 million followers on Instagram, and the head office is located in the building occupied by the LVMH Fashion Group, which consist of a conglomerate's smaller fashion labels, including Celine, Givenchy and Loewe, and it is led by Sidney Toledano.
Rihanna's ethos appeals to consumers with a millennial mindset, no matter what are their age? What an interesting concept ! This is a big bullshit of manipulation.That's the way it is.
Anonymode