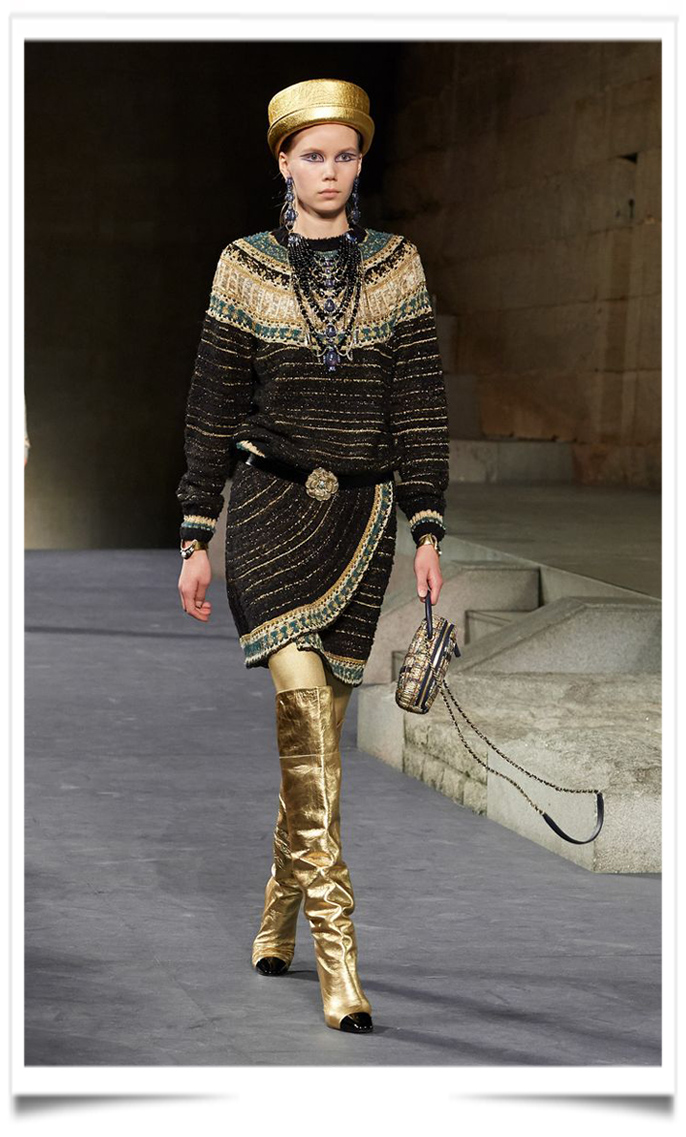 This is not Elizabeth Taylor, anyway," Karl Lagerfeld declared. Encamped in a suite at the Mercer Hotel  which the Chanel entourage took over in full in preparation for the house's Métiers d'Art show on Tuesday night Lagerfeld quickly dispelled any preconception of a luxe cheese fest of overdone makeup and tricked-out headdresses inspired by La Liz's (albeit delightful) turn as Cleopatra.
There's a timelessness to it, he said of the allure of ancient Egyptian imagery, noting that the idea for the collection crystallized before the location was secured. "I always was interested in the old Egypt, from 3,000 years before Jesus Christ. And then I said it would be great to show it in the Met, but I never thought it was possible
But then, if "impossible" exists within the world of Chanel, we've yet to see it. Here, the house booked the Met for the show (which necessitated closing public access to the Temple of Dendur for many days prior) and a nearby expanse of Central Park for the party.
Julianne Moore, Margot Robbie, Penélope Cruz, Lily-Rose Depp and Sofia Coppola. One celebrity wasn't seated: Pharrell Williams walked the show, a vision all in gold, long sweater atop leather pants.
As he imagines it, anyway. For all Lagerfeld's runway wanderlust, in truth he has one source of inspiration, his own noggin. "This was not looking at books and doing it," he offered. "It was the mood, the feeling, what I remember and things like that.
After the show, guests strolled or were bused a mere 10 blocks south for the postshow party in the park. Well, in a heated tent Chanel pitched in the park, this being November, and the temperature, chilly. Once there, the revelers settled into booths to feast on fare from that most modern and proletarian of Gotham conveniences food trucks.