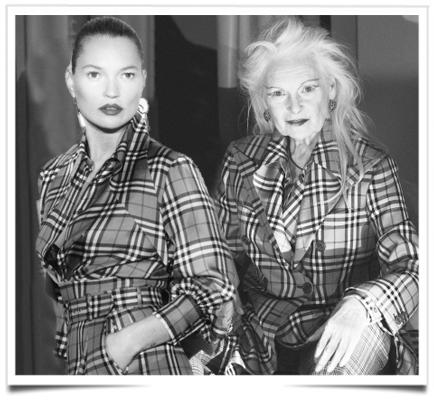 The old bird Vivienne Westwood and Burberry have lifted the veil on their collaboration, with the release of their joint campaign that's filled with an array of new and old faces dressed in head-to-toe vintage Burberry check.
The idea for the limited-edition collaboration, Riccardo Tisci's first, was to take a unisex approach and create a "union of punk and tradition" by reinventing some of Westwood's most famous pieces from berets, to lace-up platform shoes and kilts using a vintage variation of the Burberry check.
Kate Moss poses in a check shirt and matching high-waisted pants; Sistren, a group that creates podcasts about the stories of queer black women, are in mini kilts, knee-high socks and bucket bags all re-created in Burberry check, while musician Leonard Emmanuel wears an oversize T-shirt with the slogan "Cool Earth has a plan to save the rainforest."
Burberry's chief creative officer and Westwood also came together to support the nonprofit organization Cool Earth. Westwood plans to customize four T-shirts to be auctioned off with funds going toward supporting Cool Earth.