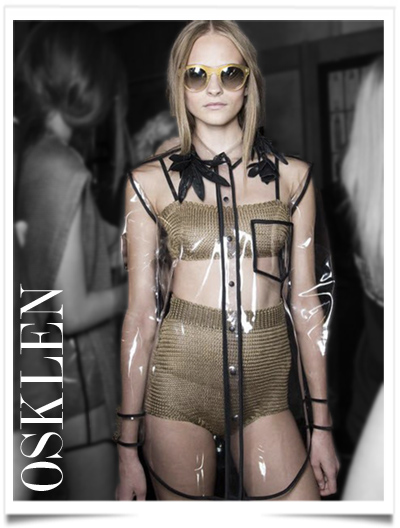 For the Spring/Summer 2015 Osklen collection, designer Oskar Mestavaht immersed himself in an entire museum. He spent four days at Inhotim, the outdoor contemporary art museum in Brumadinho, Brazil, that marries nature, art, architecture, and beauty.
This inspiration resulted in a beautiful texturized collection complete with colors derived from vegetable-based dyes and intricately woven textiles. Some of his inspiration came through quite literally: Rigid plastic skirts suggested the museum's modern architecture, while fluid dresses in eye-catching florals referenced the lush foliage. Styled with half-moon flower necklaces and comfy sneakers, the vibe was cute and youthful with a little bohemian flavor.
Osklen is a Brazilian fashion designer based on harmonization of contrasts, in which urban and nature, organic and technological live together.
During the first ten years the influence of sports in the brand was very present. From the year 2000 and on, Osklen began to focus on fashion design and luxury. Osklen makes clothes for people who identify with the lifestyle offered by the brand.
Throughout its history the issues of environmental conservation and socio-environmental education have always been present in the brand's guidelines.
Osklen's head office in Rio de Janeiro includes a couture atelier, a photo and design studio, and a marketing and web department. Osklen has stores in Brazil, Italy, USA, Japan, Greece and Argentina, and also a temporary store in Punta del Este.