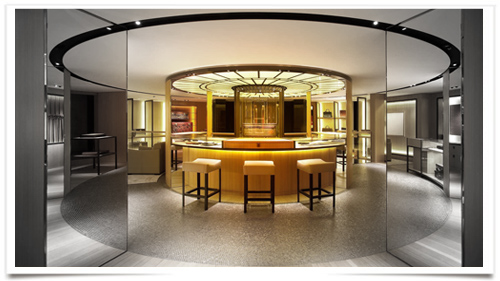 To celebrate its 165th anniversary, the Parisian leather goods house Moynat has opened a boutique in the heart of Hong Kong's most famous mall, the Landmark shopping center, which houses 200 luxury brands.
The boutique is the house's first location in Asia. Opened on January 8, the "Moynat Gallery" offers accessories and leather goods for men and women, a few rather famous trunks, and will, upon request, offer a personalized service: your bespoke, hand-engraved initials on the trunks and bags.
Also in celebration of its anniversary: a reinterpretation of Moynat's Réjane crocodile bag, originally designed to pay tribute to Gabrielle Réjane. Born in Paris, the daughter of an actor, she became a pupil of Régnier at the Conservatoire, and took the second prize for comedy in 1874. Her debut was made the next year, during which she played attractively a number of light—especially soubrette—parts. Her first great success was in Henri Meilhac's Ma camarade (1883), and she soon became known as an emotional actress of rare gifts, notably in Décor, Germinie Lacerteux, Ma cousine, Amoureuse and Lysistrata, a well-known actress during the Belle Époque. It's the brand's first bag to be named after a celebrity. The new design requires 6 crocodile skins and a pink gold buckle covered with 320 diamonds from Place Vendome jewelers. It's priced at 130,000 euros.
The French brand is also taking advantage of the opening to present a trunk designed by artistic director Ramesh Nair, made for the Parisian jeweler Chaumet and intended to house one of its most outstanding necklaces. The painstaking work on the trunk took more than 500 hours.