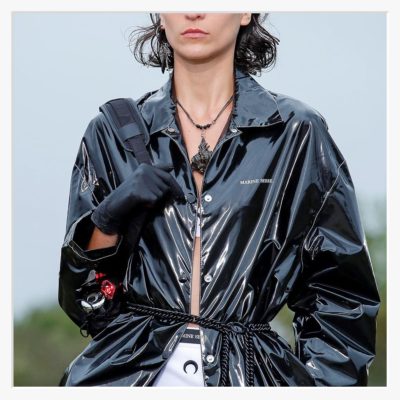 Last week in Longchamp, it was not the oil cat walk as Marine Serre had promised, but rather the Black Marine, and in addition to the rain falling on Paris as the new products of the LVMH group would. Here is the designer dressed by the Lord of Fashion Ring Bernard Arnault, for whom the red carpet was pulled out, and who unrolls his oil black carpet for us.
Being offered Longchamp before Dior, the Granville master would have been very upset. And all this for a very dull collection despite all the money spent and the advisers of the Lady of the Châtelet.
Dubbed "Marée Noire" ("Black Tide" in French), the collection is rife with signature Serre designs, updated with moody hues appropriate for the disquieting theme black jumpsuits, jackets and bags referenced both the oil that hastens environmental shifts and the shades worn by protestors, while splashes of red are an ode to drawn blood. Tiny, delicate bags and clutched pooches hint at bourgeoisie ladies escaping mutating landscapes, while tailored suiting is upended by tonal camouflage and towel-like textiles, speaking to the utilitarian needs of a post-apocalypse society.
Dresses and light wash denim, a moment where the storm broke and spiritual needs drive a return to nature worship.
She said "Chic, it was my mother who wore suits fromtyhe shop, "the City" I stole from her", she now presented her collection in the luxury of luxury whose only value is the "sec in the City" (sec dry in French), interestingt when we were under a pouring rain during the show.
Anonymode.