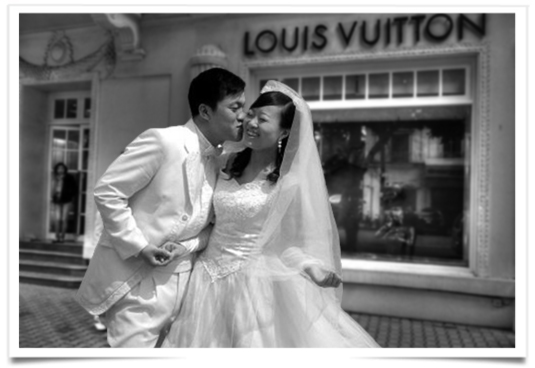 The modern luxury industry rests on a paradox-but is thriving nonetheless. At the Trang Tien Ptaza shopping mall in Hanoi, the capital of Vietnam, some days you have couples in wedding dress and costume who come and pose for photos in front of the fashion brand shop windows like Salvator Ferragamo, Louis Vuitton and/or Gucci offering the sort of backdrop for romance more usually provided by the sea or the mountains. The women are not wearing Ferragamo Vara pumps' with their distinctive bows, or toting Vuitton subtly monogrammed handbags.
They cannot afford them. Tran Van Cuon, who assembles mobile phones at a Samsung factory, posed with his
fiancée in a white suit and bow tie that costs him the equivalent of $150. Some day he hopes to become a customer in the mall. Until then, he will proudly display the photos in his home.
Stumble across an outpost of European luxury in a relatively poor and nominally socialist country is not all that surprising. This is the paradox, spend 6 month salary just for a Vuitton bag. "We do not want to have kids says the fiancé, we just want to dream for a different way of live and France is the perfect model of that".