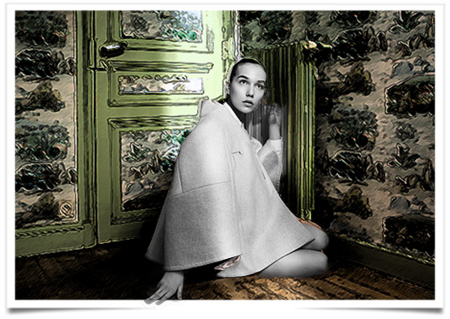 The 29th annual Hyères International Festival of Fashion and Photography was held in the far south of France this weekend to showcase a group of rising designers and photographers.
The jury was lead by Kenzo's Humberto Leon and Carol Lim, along with other creative professionals from Spike Jonze and actress Chloë Sevigny to Jay Massacret from VMan and Eric Wilson of InStyle. Out of over 300 applicants, Kenta Matsushige won the final prize for his Fall/Winter 2014 women's collection. Now he'll be granted 15,000-euros to back the production for his collection as well as the chance to work with Chanel's choice French Ateliers des Métiers d'Art.
Matsushige's online presence barely goes beyond his award-winning announcement, so here's the breakdown on this groundbreaking designer.
1. He hails from Osaka and his winning collection was produced in Japan.
The 25-year-old designer is now based in Paris and is also a 2012 graduate from the Chambre Syndicale de la Couture school.
2. Leon and Lim gave Matsushige the prize for his quality of finishing.
Lim also told The Debrief that "you can see the woman who he is designing for and the vision."
3. Matsushige's collection is inspired by the structure of traditional Japanese kimonos and the work of Japanese architect Tadao Ando. He also told Buro 24/7 of his designer influences, "I admire Jil Sander and the work of Phoebe Philo at Céline."
4. His collection's pieces were made of contrasting fabrics, wool and cotton.
Structured wool was used to create his outerwear and separates into boldly shaped silhouettes, while the cotton was used for button-down shirts.
5. Matsushige is a true unknown fashion designer (and that's a good thing).
The difference between Hyères and other fashion design competitions like the CFDA/Vogue Fashion Fund or the Woolmark Prize is that the contestants competing in the latter are somewhat already established to the panel. Matsushige has never been introduced to high-profile editors, buyers, and creative directors, so we're excited to see what his winning designs will take him next.
May we remind you that this International Fashion Festival was launched by Jacques Mouclier the former President of the Chambre Syndicale de la Haute Couture. Thanks Monsieur.