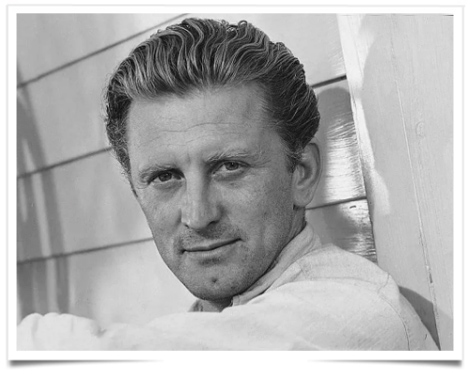 Sure, you can't discuss Kirk Douglas without mentioning the chin. That famously dimpled chin, which you'd never believe on a statue, nonetheless gave the Hollywood icon a granite jaw that served him well as a leading man for more than 60 years. But you also have to give Douglas who died Wednesday at the age of 103 credit for those piercing eyes, which gave the Spartacus star his relentless intensity. The chin made him a star, but the eyes made him an actor.
Given the eyes and the jaw, Douglas was equally adept at playing heroes and cads. He rose to fame playing the latter, in movies like Out of the Past, Champion Ace in the Hole (as a scruple-free reporter), and Hollywood exposé The Bad and the Beautiful. But he soon moved to nobler, if equally volatile characters, in such films as 20,000 Leagues Under the Sea, The Vikings, Gunfight at the O.K. Corral , Lust for Life (where, as Vincent Van Gogh, he hid his dimple under a beard), Paths of Glory, and of course, Spartacus.
That Stanley Kubrick epic gave Douglas a chance to prove his heroism off-screen as well. As a producer of Spartacus, Douglas hired Hollywood Ten member Dalton Trumbo to write the screenplay under his real name, thus helping to bring an end to the Hollywood blacklist of suspected Communists that had kept Trumbo and other filmmakers from working openly for a decade.
Born Issur Danielovitch in Amsterdam, New York, the future Kirk endured a childhood of Dickensian privation and anti-Semitism before turning to wrestling, then acting, at St. Lawrence University in Canton, New York. In New York City, he studied alongside future wife Diana Dill and Lauren Bacall at the American Academy of Dramatic Arts. After a war-time stint in the Navy, Douglas found fame under his new, de-Judaized name on Broadway and then Hollywood
Douglas, who was married twice (to Dill in the 1940s and to publicist Anne Buydens since 1954) and had four sons, claimed to have slept with most of the legendary Hollywood beauties of his day. It wasn't a boast, just an assertion in line with his particular brand of old-school masculinity.