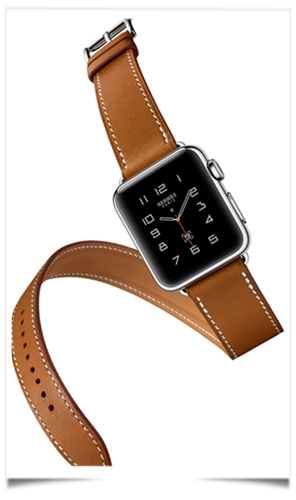 Last Wednesday Apple announced a partnership with French luxury leather goods manufacturer Hermès and launches a Hermès leather strap for the Apple Watch.
"Apple and Hermès make very different products, but they reflect the deep appreciation of quality design," said Jonathan Ive, Apple's chief design officer in a press release. "Both companies are motivated by a sincere pursuit of excellence and the desire to create something that is not compromised. Apple Watch Hermès is a true testament to that belief." It is to you to decide if you agree with it.
Hermès' creative director Pierre-Alexis Dumas stated: "I see it as the establishment of an alliance in excellence; like horse and carriage, a perfect team."
Hermès will feature three types of bracelets for the Apple Watch: the double-wrap model with steel buckle, in a range of four colours, will go on sale for $1,250; the bangle model with palladium stirrup buckle, in tawny colour, will cost $ 1,500, and the single-wrap model with steel buckle, in a range of three colours, will cost $ 1,100 or 1,150 depending on the watch's size (38 or 42 mm). The watch dial will be decorated with the Hermès signature.
These precious items will be available from October 5th in fourteen countries or territories, among them the USA, Canada, Switzerland and France, in selected Apple and Hermès stores. Good luck to buy it as there will surely be line to acquire it. In my case I keep my "Blancpain".