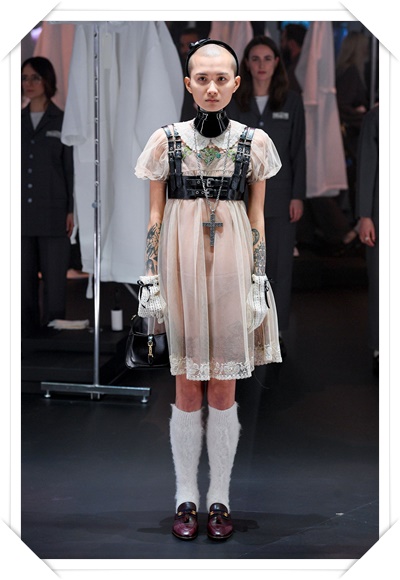 Smart and real, Michele was humbly asking you to come to the show, if you didn't have anything better to do. From the thoughtful invitation to the warm welcome, the entrance was directly backstage where makeup was in progress and the designer was greeting everybody.
Life is a carousel, and when it begins to turn, time seems long, and the days are whirling around in a whirlwind. It is the time of childhood, the beginning of the youth of illusions, love and hope. That's Mitchell's message?
As in fairy tales, everything is beautiful and seems enchanted, like the carousel, with the pretty colours of a world full of splendour. Come and let's enter the magical land Gucci tells us and invites us to share the gaiety of the 70s.
It's not about showing a story, but rather a time that passes like a story stopped in a painting. This time is not the duration but rather the time to celebrate Zeno's arrow and its paradoxes. It is in the interval from one position to another that the viewer can judge this wear and tear exposed in a painting. But it is also what implies the reversal of thought as Aristotle did in his time.
The show opened and closed with a voice-over by Federico Fellini who described, with his and childish voice, his idea of cinema both as a director of movies and a viewer a way to make a ceremony happen in his unique fantasies. "I love him and I would have had the chance to meet him," recounted Michele who paid homage to the Italian Maestro's acme of his creative process, through the fashion show.
The carousel and its fashion mannequins that keep turning, for the house of Florence that presents in Milan, and for a designer born in Rome who is already forty-eight years old, send us a message about the round of the remaining towers to be done before the merry-go-round comes to a halt, in the depth of impatience that lowers its weight a little more.
Anonymode