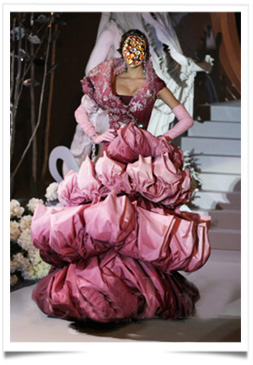 According to our spie, John Galliano may return to fashion by the end of the year with Maison Martin Margiela. The former creative director of Dior may join the brand owned by Renzo Rosso, the head of Only The Brave (Diesel, Marni, Viktor & Rolf…), in order to design a Haute Couture collection. Discussions are ongoing, while Galliano has already hired five to six people for his atelier.
We have always been a supporter of John Galliano. According to us he is like "The Picture of Dorian Gray". He expresses the desire to sell his soul, to ensure that the picture, rather than he, will age and fade. The wish is granted, and John pursues a libertine life of varied and amoral experiences; all the while his portrait ages and records every soul-corrupting sin. But over is over, it is like the phoenix bird which is cyclically regenerated or reborn.
In fact the flamboyant style he brought to Dior appears atodds with the somewhat austere designs at Maison Martin Margiela. But as a multifaceted designer, Galliano will most certainly be the next designer who will blowup the fashion industry. Talent calls talent. That's the way it is.