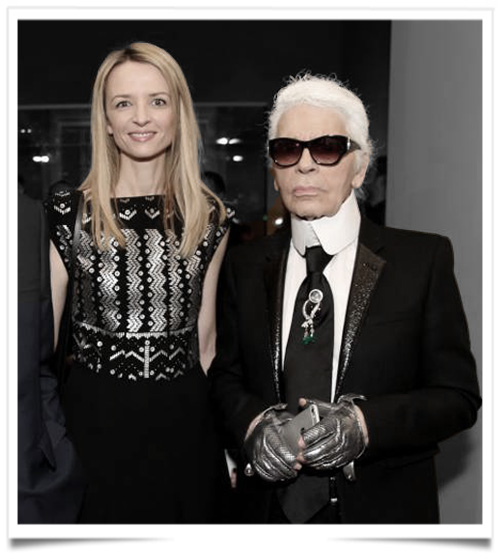 His legendary fashion career was ignited by an award. In his twilight years, he acted as a judge for the LVMH Prize for Young Fashion Designers, leaving most contenders starstruck. And now he will be immortalized with a fashion prize in his name. LVMH Moët Hennessy Louis Vuitton confirmed exclusively that its Special Prize will henceforth be named the Karl Lagerfeld Prize.
The first one is to be presented during the sixth edition of the contest on Sept. 4 at the Fondation Louis Vuitton.
"Karl Lagerfeld, creative director of the house of Fendi since 1965, was involved in the prize since its launch," said Delphine Arnault, the force behind the high-profile design competition. "He was fully committed to it since Day One, transporting us with his enthusiasm and his energy, sharing with everyone, whether other jury members or candidates, his culture and his passion for fashion. We shall always cherish those precious moments."
A key talent scout at the French luxury conglomerate and the number-two executive at its flagship Louis Vuitton brand, Arnault added that the Karl Lagerfeld Prize "naturally perpetuates the closeness we developed over the years and is a tribute to the man's unique creative genius, to his ability to turn Paris into the fashion capital of the world."
The winner of the Karl prize is to receive 150,000 euros and a one-year mentorship program provided by a dedicated LVMH team offering expertise in such areas as intellectual property, sourcing, production, distribution, image, communication and marketing.
Established in 2014 and unique in its online-only application process, the LVMH Prize is open for anyone under age 40 who has produced and sold at least two women's or men's ready-to-wear collections. Each year, three graduates from fashion schools are also recognized.
This year's prize attracted more than 1,700 applicants from 100-plus countries.