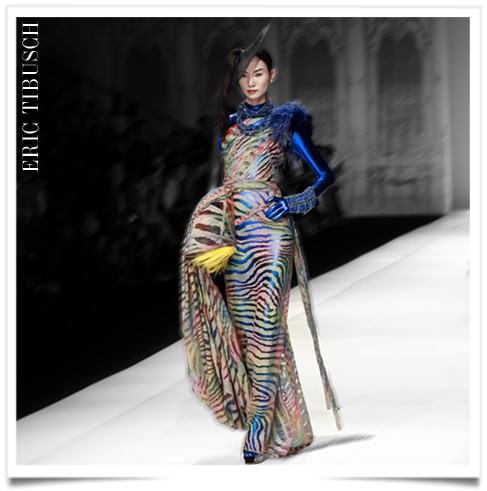 The show started with a slow and majestic long music? Alice in Wonderland Theme 'Tell me what you wear and I will tell you who you are' could be the name of the 2015 Spring/Summer Eric Tibusch show. Influenced by China and the 1950's, the collection is glamour and revealed a feminine and beautiful woman which will make you dream of her and for whom you would like to write and who will make you happy.
I love this blue and silver colour accented by a black necklace as a provocation. I love this deep neckline styke and simply open up the desecration that lets me see the beauty and the promise of a soft and warm night. I love simplicity in sophistication. I love beautiful. I love what is simple.
No dominant colors, silver and chiny red really contrast with the collection of last year. The style Dior chiffon dresses embellished with large soulders in the back is the hallmark of the brand Tibusch.
It is the prerogative of the greats who do not always give the best but give when he and only he has decided. For a long time we have seen Eric soul and today we can say "Good morning, Mr. Haute Couture". Please come back to France. We are expecting you. Specific thanks to the city of  Dalang and Shenzhen who help us to report and organize facilities for our friend, the Fashion Designer Eric.