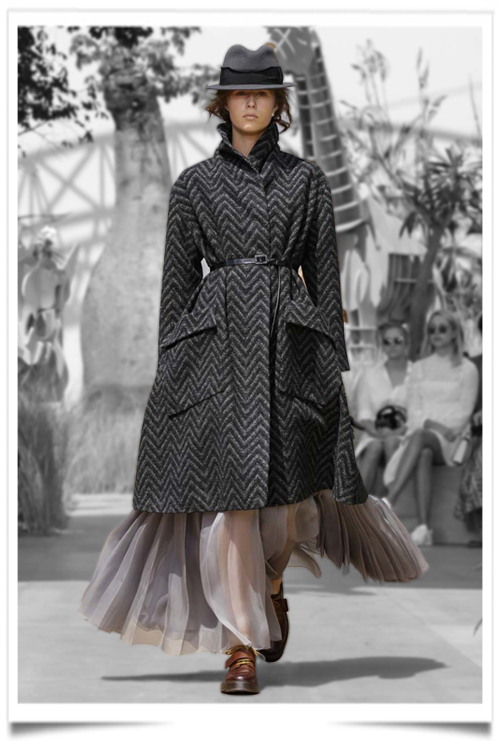 Dior took place at Les Invalides, transformed for the occasion into a Garden of Eden located in the middle of Paris, place Vauban where the cohorts of limousines formed a fortress.
The Prince of Luxury surely spoke with God to ensure a sunny weather! The sky became blue with a few clouds from time to time to leave a slightly cool breeze caressing the bodies of women dressed for the occasion as if the air conditioning had been regulated by the nature. Dear Sir, you know that we enjoyed this tour de force, and we are aware that you like to speak to the Gods of Olympus to satisfy your audience.
Upon arriving, I came across the American actor Robert Pattinson, the couturier Alber Elbaz as well as a floor of people of TV reality series, Vicomtesses and Baronesses, who represented the society for the second collection Haute Couture of Maria Grazia Chiuri.
The slut has "a fucking talent". A thousand apologies for this expression, which I did not know how to handle, but I truly said to myself during the show that she has put on the costume of Monsieur Dior, as one enters the glass slipper of Cinderella, with the difference that it does not ' Stop at midnight.
She offers us a journey, which talked to women. We knew she is willing and committed, but such a talent should be called genius. The day clothes transfer the silhouette into coats, skirts and giant pants cut in thick wool made for exits to take the vital space of others, with a hint of retro that oscillates between the 90's of Milan and the 50's of Paris
This visionary Polytechnician is amazing. Each Time he knows how to choose a talent for his brand that will probably become the best known brand in the world and who will eventually buy back the LVMH group. Captains of industry are thus supra-visionaries. They have not only an intelligence but also a lot of common sense and that is why I was there this afternoon because he knows that power does not exist without counter-power.
Anonymode