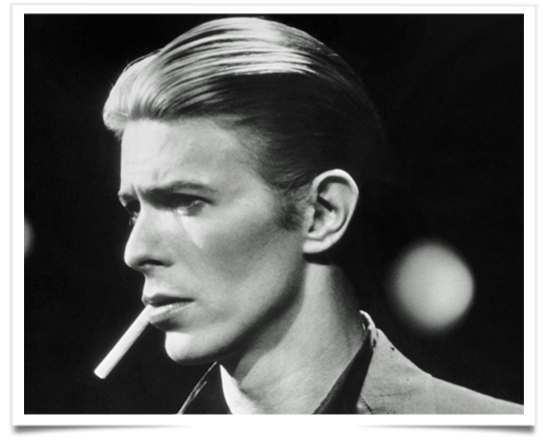 David Bowie born David Robert Jones, 8 January 1947 – 10 January 2016 English singer, songwriter, multi-instrumentalist, record producer, arranger, painter, and actor. Bowie has been a figure in popular music for over four decades, and is known as an innovator, particularly for his work in the 1970s. His androgynous appearance was an iconic element of his image, particularly in the 1970s and 1980s.
The influential singer-songwriter and producer dabbled in glam rock, art rock, soul, hard rock, dance pop, punk and electronica during his eclectic 40-plus-year career. 
With his different-colored eyes (the result of a schoolyard fight) and needlelike frame, Bowie was a natural to segue from music into curious movie roles, and he starred as an alien seeking help for his dying planet in Nicolas Roeg's surreal The Man Who Fell to Earth (1976). Critics later applauded his three-month Broadway stint as the misshapen lead in 1980's The Elephant Man.Fashion Icon: The group Canal-Luxe expresses his sincere condoleances to your family.