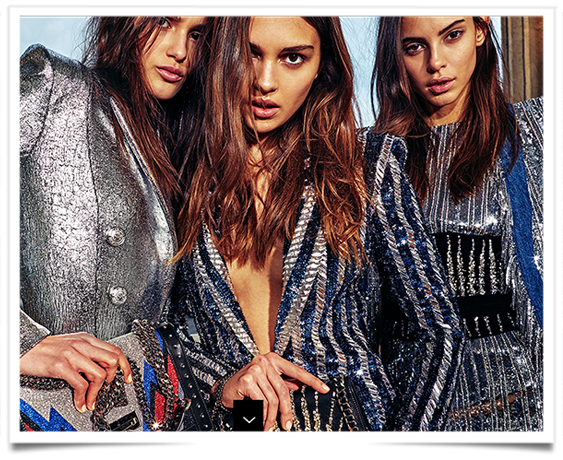 Balmain is bolstering its digital reach with the launch of an online flagship serving customers in more than100 markets in partnership with Yoox Net-a-porter Group.
Till now, in terms of its own online store, "the situation was quite poor," acknowledged Balmain chief executive officer Massimo Piombini in an interview at the brand's headquarters. Everything was managed in-house "without any real technical expertise, and the possibilities to keep up with the upgrades of the digital business," he said.
Harnessing the latest technologies in the online business and integrating Balmain's e-commerce and institutional web sites, the new site, he said, will boost visibility and sales, as well as serve as a powerful communication tool. Features include a click-and-collect service, editorial content including videos, and dedicated capsules.
Till now, balmain.com has generated around 3 to 4% of the brand's total sales, according to Piombini, who is not expecting a sudden spike.Judging by the momentum of the brand's growth, "Even if we keep the 3 or 4%, it's going to be 3 or 4% of a much bigger number," he said, adding that the plan is to triple the size of the business over the next three-to-four years. At the time of Balmain's acquisition in 2016 by Mayhoola Investments, the Qatar-based parent of Valentino and Pal Zileri, the company was "relatively small" in size, with revenues of around 130 million euros, he said.
The launch of the digital store comes alongside the controlled rollout of flagships in key cities and in the build-up to the opening of a landmark Paris flagship for the brand early next year on Rue Saint-Honoré, in a site currently occupied by Zara. The store, which measures around 7,500 square feet, will be designed by Balmain creative director Olivier Rousteing, together with Paris Studio AMV.
Balmain is actively scouting locations in cities including Rome, London and various cities in Asia, where the brand has a small retail presence. Balmain's top three markets today are the U.S., Italy and France, but following the recent launch of accessories, the plan is to ramp up growth in Asia, he said, adding that Eastern Europe is also "developing at a strong pace."
The brand in January will also take over the atrium of the Printemps Haussmann women's building with a pop-up store.