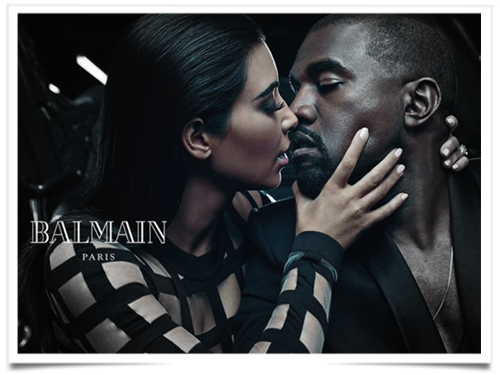 Yesterday, we discovered this picture; a black & white ambiance which is the quintessence of the BALMAIN brand. On the photo we can see the most famous couple and most controversed on the planet : Kim Kardashian and Kanye West! The couple dressed in black is kissing.
A photograph was posted on the instagram account of the American reality show star. One thing is certain: the beautiful brunette knows how to handle his com and we doubt that this photo was unveiled by chance or by mistake …
Is it the first visual of an advertising campaign to come for Balmain? Are the parents of the little "North West" the new faces of the luxury brand? In fact, they are friends with the artistic director of the famous luxury house, Olivier Rousteing, and are always attending his shows during the Fashion Weeks . We don't know the amount of the transaction but with friends what transaction means? In Fashion industry, only money is important. There are no friends. That's the way it is.