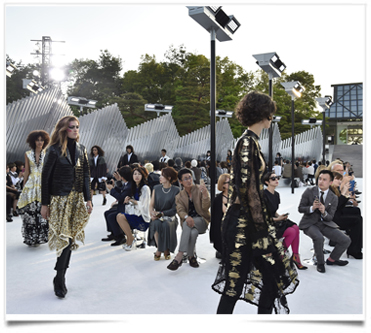 On Sunday night, Louis Vuitton privatized Shinbashi Street in the heart of Kyoto's medieval district to celebrate its cruise 2018 collection. Guests including Michelle Williams, Isabelle Huppert, Laura Harrier and Sophie Turner mingled with gaggles of geishas by lantern light, and top city officials gave speeches to mark the occasion.
In an unprecedented move, Vuitton took over 15 of the street's historic restaurants to host its guests. The evening before, it had booked three of the city's temples, including the prestigious Sennyū-ji temple, which Emperor Akihito often visits and which had never before hosted a private event.
With such build-up, there was a risk that artistic director Nicolas Ghesquière's clothes would be overshadowed by the production. He more than rose to the occasion, with a lineup that paid tribute to Japan's rich traditions, while further mining the tough-girl aesthetic he has established since joining the brand in 2013.
Japanese actress Rila Fukushima, a longtime friend of the brand best known for her role in "The Wolverine," opened the show in a belted jacket made from a patchwork of furs, including two leopard-print shoulder patches that popped against an oversized striped cotton shirt.
The designer drew from a plethora of Japanese references including kabuki (models' dramatic brows and cat-eye flicks); samurai armor (woven jersey and leather tops); obi fabrics (sharp suits and voluminous dresses in colorful silks), and figurative engraving (drawings used as prints).