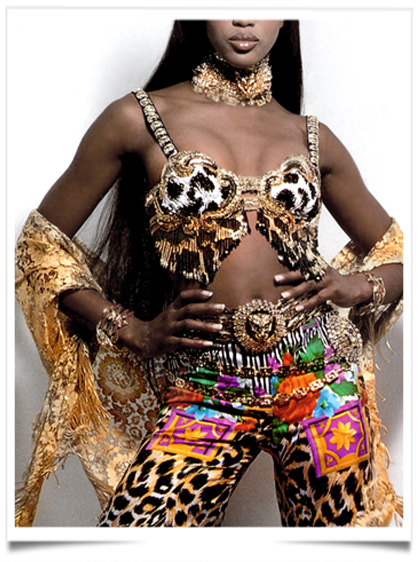 On September 21, the auction event The Genius of Gianni Versace: A Collection of His Iconic 90s Designs will be conducted by Leslie Hindman Auctioneers and include over 350 vintage Versace items from some of the designer's most recognized work.
This single-owner collection was carefully curated in the 1990s by a gentleman who recognized the artistry, fearlessness and talent of Gianni Versace. The trend setting designs, paying homage to Versace's classical European roots, struck a chord with the collector who would go on to explore the many facets of the fashion house. Assembling a thoughtful representation of Versace became his passion, as is evident by this superb and rare collection of both couture and accessories, which he stored meticulously for the past twenty years. Items from Versace's Baroque, Teatro, Bondage, Animal Print, Miss S&M, Punk and Miami collections are all represented.
Versace is credited with creating some of the 1990's most iconic fashion moments and inventing the supermodel. Many highlights of the sale come from important runway collections and ad campaigns, modeled by some of fashion's most seminal faces.
Examples from the sale include a Gianni Versace gold leather gown design as seen on the Autumn/Winter 1994 Milan runway and worn by Claudia Schiffer. It has a presale estimate of $5,000 to 7,000. From the Autumn/Winter 1991 Milan runway is the printed silk velvet "Canova" skirt suit, similar to the vintage Versace one in the collection of The Costume Institute at The Metropolitan Museum of Art. It will be offered with an estimate of $6,000 to 8,000. Other runway highlights include a leather embellished vest with silk tie design modeled by Naomi Campbell on the Spring 1993 Milan runway and estimated at $2,000 to 3,000.
The Fall 1992 runway collection, aptly titled Miss S & M, combined skintight leather and fetish elements. The result is one of Versace's most renowned collections. From the collection is a black wool bondage dress that carries a presale estimate of $3,000 to 4,000. see more on https://www.lesliehindman.com/versace/