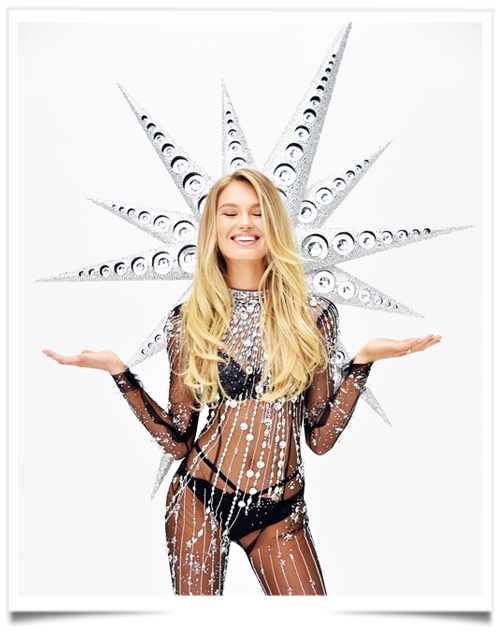 This year's is one of my all-time favorite looks we've done," mused Monica Mitro, Victoria's Secret's executive vice president of brand communication and events, of the coveted 2018 Swarovski Look. Victoria's Secret Angel Romee Strijd was chosen to strut this year's Shooting Star Swarovski Look during the Celestial Angel part of the show on Thursday.
The look is collectively adorned with over 125,000 Swarovski crystals — with more than 55,000 on the celestial star wing and 70,000 on the full-body sheer, black bodysuit (worn over a lacy black bra and matching, cheeky briefs). The 3-D mono-wing, which breaks the traditional paired wing concept and was designed by Marian Hose, includes a seven-pointed crystal-encrusted star with circular cutouts and suspended, oversized Chessboard crystals. The look weighs 27 pounds and it took more than 250 hours to apply the Swarovski crystals to the wing alone.
Swarovski is upping its already impressive sparkly game already being the sole provider of crystals at this year; show. Last year's Swarovski exclusive "Crystal Anniversary" look veteran, Elsa Hosk, will unveil the first $1 million Fantasy Bra, which incorporates (for the first time) lab-created diamonds and responsibly sourced topaz; additionally, the brand has designed a commercialized version for fans to purchase a replica for $250, in-store or online.