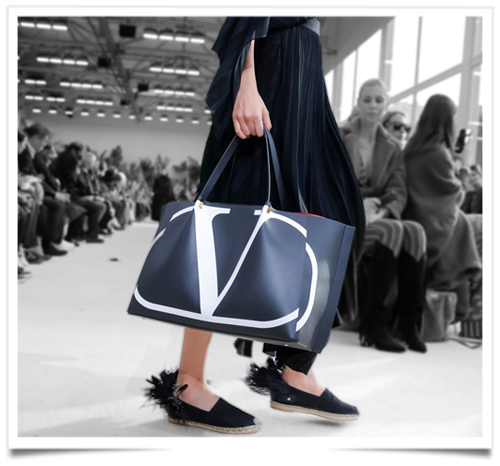 As recently as a year ago, you didn't wear logos," now it's over. Stars and assorted style-world moguls tricked out in Fendi logo regalia persuaded her otherwise. "Nowadays everything is allowed,"
Fendi is among the latest in a raft of luxury labels to advance the proposition that too much is never enough. Emboldened by the success of logo-ridden skate wear brands like Palace and Supreme, high-end labels including Prada, Balenciaga, Valentino and Chanel have joined the stampede, their monograms stamped on everything from hats to hosiery and, with a nod to the 1990s, the elastic bands of men's skivvies.
It's the trend that keeps going and going. This fall, fans of the hypebeast culture can choose from logo-embellished Balenciaga pullovers and embroidered Gucci slippers at Barneys New York, Off-White sweatshirts and camouflage jackets at Saks Fifth Avenue, and Vetements parkas at 10 Corso Como, the newly alighted Milanese purveyor of cooler-than-thou luxury wares in Lower Manhattan.
Even mass market chains are championing the movement, like Zara, whose stores and website are awash in logo coats, shawls and frocks. So pervasive is fashion's logo fixation that it vies with, and even outpaces, that of previous, more overtly ostentatious eras.
Courrèges double C's and Bill Blass back-to-back B's affixed to sunglasses, satchels and all manner of unlikely tchotchkes. Logos flourished again in the late '80s and '90s as strident, some say garish, symbols of wealth and the brash insignia of the hip-hop generation and then faded. Fashion is an eternal renewal.