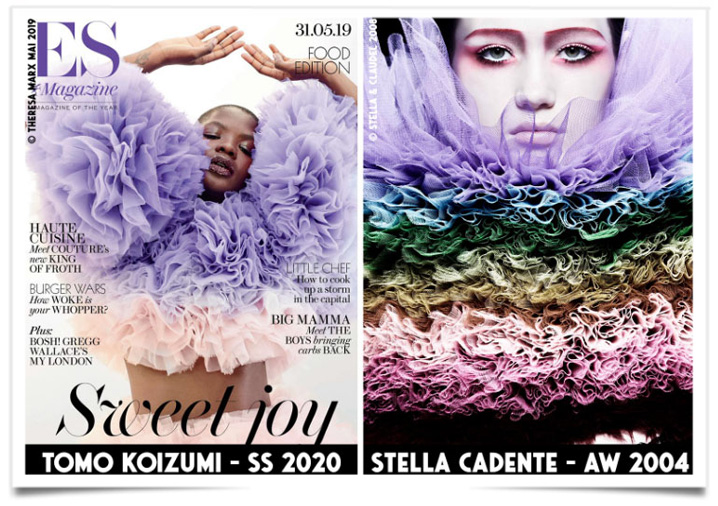 Like a Japanese mask a resulting from a genetic mutation of the NÔ theatre and a tyrant, here is a hazardous drama in the detail where one cannot remain indifferent to the pathetic of a Japanese forgetting the values of the symbolism of Mount Fuji, where the origin of the sun is translated as "the Empire of the Rising Sun", will not be justified in being a nauseous abscess. It is a couture out of memory, an organza from Japan and declined in more than 400 shades for a fashionable inspiration of the dresses of Cristobal Balenciaga, Lee Bowery or Sailor Moon, tells us the famous newspaper Magazine of fashion run without ever saying the name of the real designer, Stella Cadente.
A few weeks ago, Tomo Koizumi, lived in the greatest unknown with two equations, and a few miles from Tokyo where he made costumes for Japanese stars, the most discreet Actress on the planet, being found on Instagram by Katie, a leading British journalist of the "Perfide Albion" who will allow him on Friday, February 8 to present is very first fashion show at New York Fashion Week organized by the no less famous Marc Jacobs. That show it was the Knokoof of Stalla Cadence show 16 years ago.
There is no good, no evil, no scoundrel, no lamb, no wolf; there are only punished people and people who are unpunished. This one is not a "Fashion Victim" but a victim of fashion by unknow memories.
Anonymode