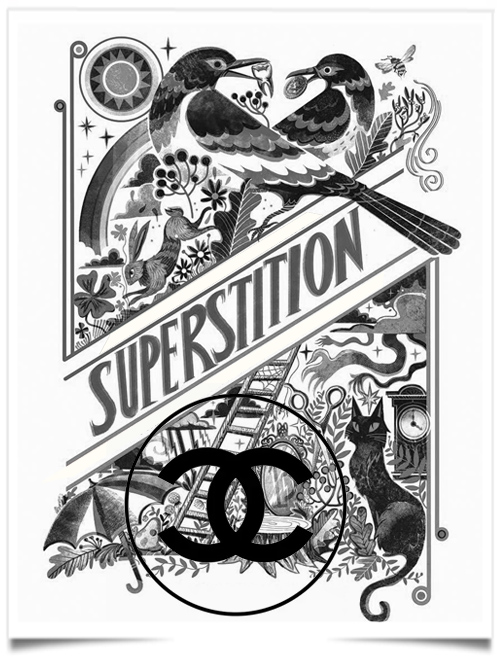 Gabrielle Chanel's lucky number was five, for Karl Lagerfeld it was seven, and for Riccardo Tisci it is 17. That's apparently why he puts that number on his T-shirts and at the end of his Instagram handle. This is the tip of the iceberg, because when it comes to superstition in the fashion industry, fortune tellers, fortune tellers, lucky talismans and even shamans have been around for ages. Friday the 13th is still considered a bad luck day.
Irrational beliefs with supernatural influences that would be at the origin of the perfume of the late Alber Elbaz; created in 2017 and named "Superstitious". Former Dior designer Gianfranco Ferré never included a No. 17 look in his collections. It was always 16 bis, which is also why four-leaf clovers and evil eye motifs became so popular in his jewellery collections.
Superstitions in fashion, say psychologists, are due to a predisposition especially to people in insecure situations. Fashion is an industry that goes through ups and downs; you can be the star of the catwalk one day and totally out of favour the next. Part of the superstition comes from a lack of autonomy and anxiety, and people in the fashion industry think it helps them to choose when to present their collection.
Diane von Fürstenberg had coins with a family connection that she always put in her shoe before a fashion show. Christian Lacroix had a gold Napoleonic coin from legendary embroiderer François Lesage and a copper lion figurine from the late American editor Carrie Donovan. He usually had 36 or 63 outfits in his collection. And he used to visit Madame Mallais, a psychic who was very popular in the fashion world in the 1970s, when he was still a student at the Sorbonne. She predicted that he would meet 'a man who will be very important in his life and who will be called Arnault';
Yves Saint Laurent, who was known to consult fortune tellers, believed that his dog Moujik had special powers. But let "Roustong" and "de Vile Morin" rest assured, to be gifted like their illustrious counterparts, it is enough not to have a magic act, but only talent, and that is already enough.
Anonymode