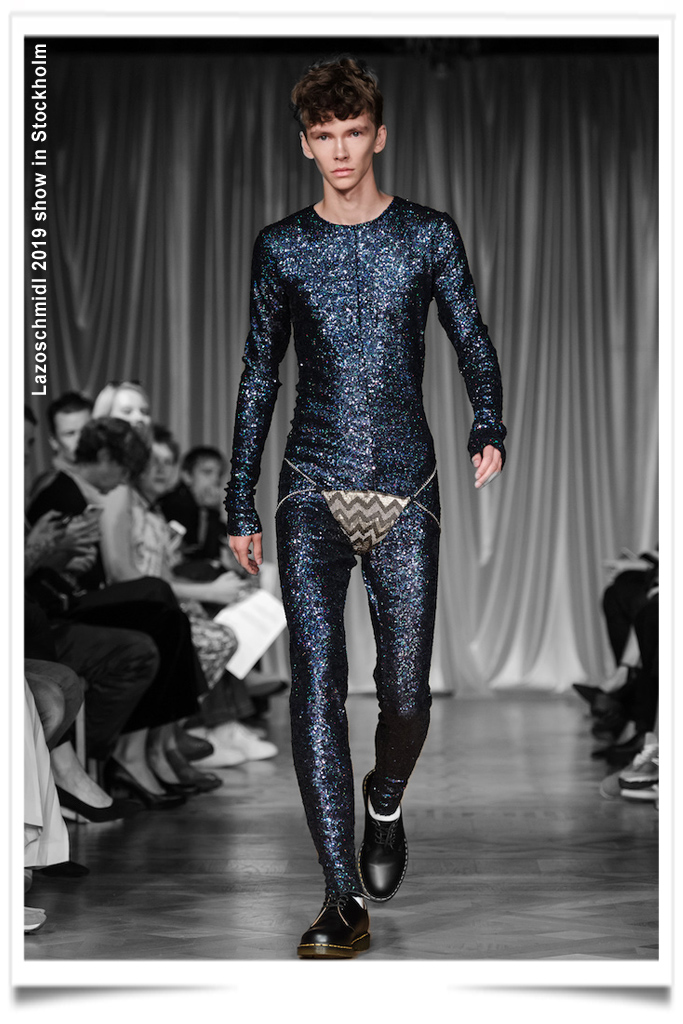 Fashion Week Stockholm, which has been showcasing some of Sweden's most interesting brands and designers since 2005, has progressively established itself as one of Northern Europe's leading fashion events. In part due to their renewed presence during this bi-annual event, fashion houses such as Acne, Tiger of Sweden, Filippa K, Hope, and, more recently, ATP Atelier have gained regional notoriety and brought international attention to the Swedish fashion scene. It has also enabled the so called "Scandinavian aesthetic" – often defined by its minimalism, functionality and simplicity – to be widely popularized and globally recognized.
Much like the other major fashion weeks, it also serves as a platform for emerging and increasingly established fresh talent, presenting a younger generation of designers who are pushing the boundaries of what's expected when it comes to Nordic style and aesthetic. Here is a selection of up-and-coming designers who are launching Sweden's fashion into the future, informed by worldly references and infused with their domestic heritage.
The Swedish-born, London-based designer has kept busy since his graduation at the Royal College of Art. First launched in 2016 as part of the TOPMAN-sponsored MAN collective (along with the talented Charles Jeffrey and Feng Chen Wang), Götesson has been hard at work reinterpreting wardrobe staples, from outerwear to shirting, while creating innovative ready-to-wear (and interchangeable) menswear.
For his S/S 19 collection, which was presented at the Swedish Fashion Talents presentation, the young and coveted designer took a brilliant stab at bringing elegance – and almost a touch of renaissance – to what is now ubiquitously coined as 'streetwear.' With inspiration ranging from sportswear to classic menswear, the feel and brilliance of the pieces were anchored in Götesson's love of volumes and draping. Subtly inspired by a portraiture piece of 15th century Dutch artist Jan van Eyck, there was much to catch and take in when observing the various looks more closely. Details such as the Swedish tablecloth, which was used to drape a denim jacket or a front pocket decorated with an aluminum spoon, added depth to the collection alongside Husam El Odeh's noteworthy jewelry and accessories – included pieces of smashed commemorative plates featuring members of the British royal family – which adorned various looks.
Josephine Bergqvist and Livia Schück, the duo behind Rave Review, were also one of the brands featured during the Swedish Council's curated talent show. The two designers, which have placed sustainability front and center as a guiding principle for their work, presented an S/S 19 collection they defined as being "about stereotypical essentials of the summer." Former students of Stockholm's Beckmans College of Design, they are known for creating custom and limited garments using fabrics from recycled fibers or vintage materials. Interestingly, their very name is 'recycled,' as they spotted it on a second hand garment and decided to adopt it as their brand name. For their show, the pair opted for a summery look inspired from "beach life mixed up with our interpretation of the 80's camper-style." Bergqvist and Schück's inventive interpretation of terry cloth, nylon, and spandex (interestingly wrapping their footwear), along with garments made out of office shirts or men's chinos, resulted in a unique clash of fabrics and distinct styles. What could have potentially resulted in a homogeneous set of looks given the theme, truly showcased their talent at reinventing – or, as they have been quoted saying, "remaking" – an existing set of aesthetics, and older garments.
Founded by design duo – and couple – Josef Lazo and Andreas Schmidl, this label is still emerging in its own right but has been creating a serious buzz. If it says anything at all, there are claims that their pieces, both for men and women, have been doing pretty well at Opening Ceremony, one of the first retailers to carry them abroad. From what I could pick up from the variety and enthusiasm of the attendees, the pair's show was a high point this week – and one which was received with a long and lively round of applause.
Defined by an unruly, conceptual menswear aesthetic, to put it in a few words and when measured against what's expected from Swedish design, their design can certainly appear as risqué and excessive. The designers aim to make it accessible to everyone (probably meaning not just extravagant gay men).
Titled "Playdate," the show notes described the collection as "a response to the adolescent reading of Roald Dahl and Franz Kafka. Painted interiors of Henri Matisse, Ken Price and David Hockney are reworked as lurex jacquards and printed organza." Dwelling in the use of lurex, sheer fabrics, and dazzling sequins, the designers also dipped into what felt like youthful touches (possibly tapping into their own childhoods) with playful hand drawn prints, paper-like hats, and crocheted corsets that depicted naïve drawings such as simple animal faces. Some garments also featured photography by director and filmmaker Bruce LaBruce.
Aside from being represented by the Talent Group; an impressive résumé of work on short films commercials for the likes of Volvo, Adidas, or Peak Performance; and an Instagram bio that reads "Freelance Costume Designer & Stylist," not much can be found about Fessahaye. This added all the more mystique to her first show at Stockholm Fashion Week, especially for those who were not immersed in the Swedish fashion scene. As I spoke to other local and regional journalists, however, it became clear she is being hailed as one of the most exciting designers to watch. In various instances, I overheard editors of major publications discussing the show as being one of their favorites.
If her show, which some people left crying from and raving about, is to be taken as a barometer of any of this buzz, it certainly lives up to it. The collection, which was essentially only documented by Fashion Week Stockholm's photography team and via the designer's Instastories, presented an array of flowy garments which featured an assortment of colors, fabric contrasts, distinctive prints (including Egyptian motifs), and, in some cases, a high level of craftsmanship including intricate appliqué. The designer showed a liking towards pocket detailing and oversized proportions.
Fessahaye showcased a cohesive and distinctive collection despite the lack of a definitive reference, inspiration, or even style. "I have for years created pieces for myself and for work (…) I now feel a strong desire to tie it all together and present a full collection," said Fessahaye. "The main inspiration for this collection is just me putting pieces together and getting shit done." What also makes the looks stand out – silhouette and construction aside – is her background in costume design and, as per her show notes, the influence of her talented circle of friends: "Other inspirations are the people that I love working with and have around me on a daily basis."