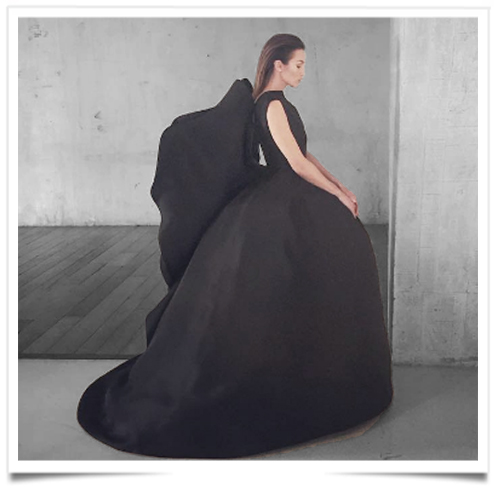 Less is more? Stephane Rolland presented his collection spring-summer 2017 at Xinhua Gallery in the 8th district during Paris Fashion week.
Rolland provided to his guests the experience of a very minimalistic architectural space with the dresses exposed like sculptures in a podium, an idea which fits well with the concept of his design.
Stephane Rolland is well known for the pure style, minimalist approach and sculptural organic shapes in his couture. We must say this collection, even though it is not very different from what we have seen before from Rolland, it is still very pleasant to watch in terms of esthetics. This time some of the dresses gave an image of a princess-like dress. It gives a vision of a modern eastern princess coming out from a fairytale.
For sure you can never make a mistake with clear, pure lines, sculptural techniques and a combination of red, white and black. Still by introducing small elements of glod, metalic elements and leather gloves gives a sophisticated touch to his designs.
Clear cuts and grid patterns on the dress, offers a feeling of showing and unshowing in a very elegant and subtile way.
It is clear that structure and the sense of flawless is the main strong point of his collection, proving us that less is always more.