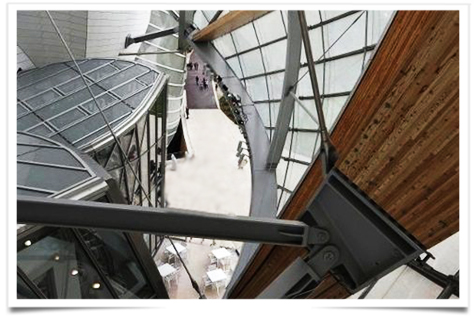 Shared between bewilderment and enthusiasm, last Friday visitors flocked to visit the building of the Louis Vuitton Foundation whose access was free for three days. Some 25,000 reservations were recorded for these open days, according to the foundation. A mixed public of retired persons, families, tourists and some architects explored the building with glass walls in the Bois de Boulogne.
Despite plans distributed in the lobby, visitors found sometimes difficult to find their way and were guided by the Foundation staff. "We do not yet know if we like the building. It is strange to have such a convoluted outside and square rooms inside the building," stressing that this is not the case in Guggenheim Bilbao, which made Frank Gehry a qtar in architecture.
Outside the foundation, many came to admire the curious "vessel" and the staircase-waterfall that flows down the auditorium at the bow of the ship. A bit further ahead, those who have booked their entrance on the internet left with free electric shuttle linking the Foundation to Place Charles de Gaulle.
The foundation can welcome 1,600 visitors at a time and expects 700,000 to 800,000 entries per year.