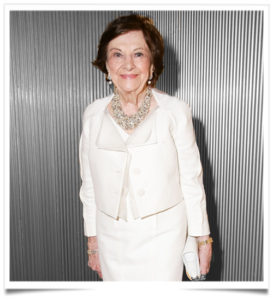 Ruth Finley, who created the Fashion Calendar and was a leading figure in the industry, died Saturday night at Lenox Hill Hospital in New York at age 98.
Finley, who was born Jan. 14, 1920, in Haverhill, Mass., moved to New York City after her graduation from Simmons College in Boston in 1941. She landed a job at Lord & Taylor in the visual department, and later wrote for the New York Herald Tribune. With a loan of $1,000 from a college friend, Finley launched the Fashion Calendar in 1945. She served as founder and publisher, and was a one-woman operation, keeping track of all New York fashion events, parties, benefits, and fashion shows. She ran it for nearly 70 years and sold it to the Council of Fashion Designers of America in 2014.
A small private service will be held in Haverhill on Sept. 3, and a larger memorial service is being planned at the Fashion Institute of Technology in early October.