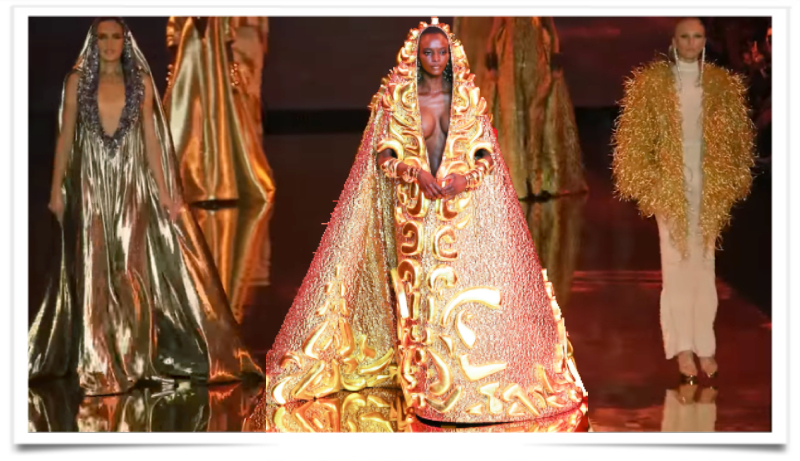 The nominations for the 2023 Oscars were announced yesterday, and the red carpet outfit predictions followed soon after. Consider turning heads in Stephane Rolland's phenomenal gold gown that debuted on the haute couture runway yesterday in Paris.
The latter looked like frozen liquid gold midway through the show, spilling over the model's shoulders and creating a glittering blistered lamé tent to protect her from the public. On her face and part of her torso was a tear-shaped cup, reminding everyone that she was both ethereal and earthy. She wore gold bracelets around her arms, like threads. As if she were a living sculpture, she was the manifestation of a god.
Aparecida, the patron saint of Brazil whose original image is enshrined in the central high altar, was the inspiration for this specific look. In the show notes, Rolland wrote that the look was meant to represent the gold of the conquistadors shining in the light of the rising sun. Forgetting the thousands of deaths that the Spanish made on its native populations.
While Schiaparelli's lion head dress divided the internet after setting it on fire, Rolland's gold dress came out the next day and seemed to unify everyone around the idea that this look was divine. Except me, because it's hard to judge a collection you're not invited to.