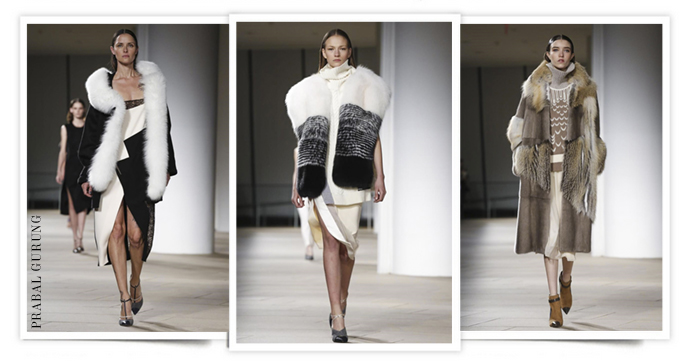 Once again, this season he turned to the mountains as a source of inspiration. It is a starting point that has served him well in the recent past. This time he looked to the Adirondacks (The Adirondack Mountains /ædɨˈrɒndæk/ are an unusual geological formation located in the north eastern lobe of Upstate New York in the United States).This was a lovely collection that harmoniously blended a minimalistic foundation, in geometric draping and fabric combinations on slip dresses, with more exuberantly elegant pieces.
A cashmere bomber jacket trimmed in silver fox fur or a snow leopard printed velvet coat. Beautiful too was the artisanal allure of a Fair Isle embroidered tweed sweatshirt or a slim knee-length skirt embellished with a hand cut diamond motif.
Gurung brought his mountain range into his designs.