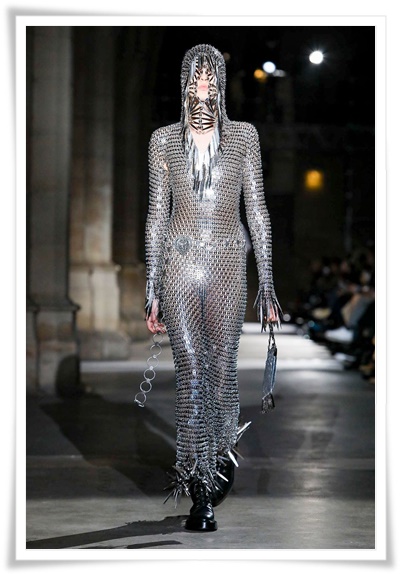 Flashy chain mail knights: no, we're not in Domrémy and we're not going to push the English out of the conciergerie. A place probably rightly chosen by Julien Dossena, given my neighbors who do not detonate with the concierges on the nearby rue St-Denis.
But Paco Rabanne's message became grunge in a whirlwind of chivalry. Here is a plunge into the Kingdom of France with a mix of Anglican pastor's outfits. These are the magical creatures that Julien Dossena evoked with his autumn collection for Paco Rabanne. This thirty-eight year old Breton offers a ceremony of powerful chic, with shiny leathers of military influence to chiffon dresses embroidered with metallic threads.
He has breathed new life into chainmail, but it's true that only Maille fits me. The house shows an Indian, Eskimo and Russian woman from the steppes of Central Asia; a melting pot bathed in the medieval age of high culture that would fit very well in our time. The only shadow in the picture is the presence of the Wintour next to Nicolas Ghesquière de Vuitton after the Elysée Palace, a sign perhaps!
Anonymous