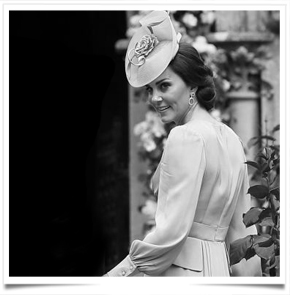 Last Saturday it was Pippa Middleton wedding and The Duchess of Cambridge did her best to remain as low-key. She was dressed in Alexander McQueen and for the occasion she chose a dress suited her attitude.
The Duchess of Cambridge arrived at St Mark's Church with the pageboys and flower girls. There was no way she would ever risk upstaging the bride, like her sister did in her curve-hugging Alexander McQueen gown at Westminster Abbey six years ago. Instead, the duchess wore a custom-made, Forties-style midi dress by McQueen, the same fashion house that created her wedding gown.
The dress had full sleeves, a peplum waist and full skirt, and its peachy pink color complemented the cascade of roses around the door of the church. Her hat, adorned with a large rose, was designed by milliner Jane Taylor, and her morganite earrings were from jeweler Kiki McDonough. The stiletto heels were Gianvito Rossi.
The ceremony was held at St. Mark's Church in Englefield, Berkshire, and the reception is taking place under a glass marquee in the back garden of the Middleton family home in Bucklebury, Berkshire, six miles away.