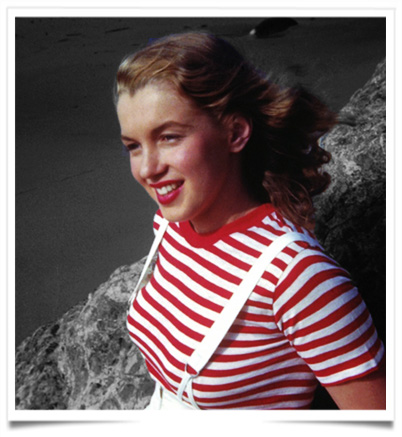 In the 20's, the Marinière or nautical style originally became popular thanks to Coco Chanel who turned it into a true fashion style shortly after, when she teamed the famous striped top with men's pants or pants-and-blazer suits. Again in 1956, the fresh, playful and sensuous actress, Brigitte Bardot was wearing a stripped T-shirt on the set of Naughty Girl by Michel Boisrond.
In 1962, we see the same top on the silver screen in Jules and Jim by François Truffaut, as worn by Jeanne Moreau. From its initial popularity to that moment, lots of celebrities had embraced nautical style. Grace Kelly, Audrey Hepburn, Jane Birkin,Edie Sedgwick and Marilyn Monroe.But let's focus on present time. This timeless trend is much loved also by today's celebs who interpret it every time according to new trends and to their individual style.
T-shirt and pants. Miranda Kerr teams them with court shoes and a leather jacket. Gwen Stefani flaunts them with butterfly shades and sky-high sandals; Jessica Alba chooses to play with contrasts wearing ikat print pants.
After all those years, the Marinière has become a classic and chic top to wear in any circumstances. OK