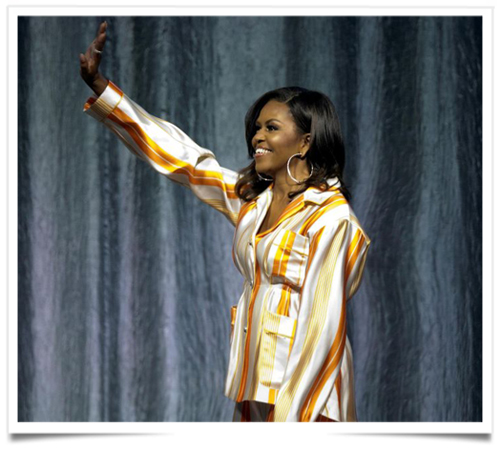 Michèle Obama appeared in an ocher and gold satin pyjamas from Gucci and no from Christopher Kane as the so professionnal French Jounalist, Loïc Prigent said !!!
"Society is constantly trying to quiet the girl," she told a rapt audience of around 20,000 people, speaking during the Kering-sponsored French leg of her book promotion tour, for her memoir "Becoming."
Sponsoring the Obama event in Paris, Kering chairman and chief executive officer François-Henri Pinault, in a statement, referred to the move as "an illustration of the core values and beliefs we share in common."
The luxury group is known for pushing women's issues, both within the ranks of its executives gaining recognition for high female board representation in Europe as well as outside the company, through its foundation. Through its Women in Motion program, for example, Kering has hosted frank conversations with figures in cinema, often on controversial subjects.
Before taking to the stage, Obama met privately with Kering managing director Jean-François Palus and sustainability officer Marie-Claire Daveu, along with 10 of the 350 young women from underprivileged backgrounds invited by the company to hear Obama speak.
"We need leaders who are more connected and young and in tune with the day-to-day issues and challenges…I want to move out of this seat to make room for the next generation and we can't do that if we're holding on," she said, while pledging to help the Barack and Michelle Obamas of the future.