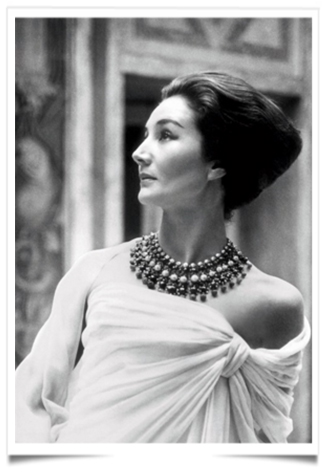 Jacqueline, comtesse de Ribes is a French aristocrat, designer, fashion icon, businesswoman, producer, and philanthropist. She has been a member of the International Best Dressed List since 1962.
The Washington Post in 1984, describing this energetic aristocrat with a Nefertiti profile. She herself has a more lofty description of her look: "Elegance, the art of being astonishing without creating astonishment."
Jacqueline Bonnin de La Bonninière de Beaumont was born on 14 July 1929 in Paris to Jean de Beaumont, comte Bonnin de la Bonninière de Beaumont (1904–2002) and Paule de Rivaud de La Raffinière (1908–1999). In 1948, January the 30th, Jacqueline married Vicomte de Ribes, a successful banker who subsequently became comte de Ribes and Officer of the Legion of Honour, Croix de guerre 1939-1945.
They had two children, Elizabeth and Jean. For twelve years de Ribes created ready-to-wear collections, using marketing techniques to attract famous and elegant international clients such as Joan Collins, Raquel Welch, Barbara Walters, Baroness von Thyssen, Cher, Danielle Steel, Olympia de Rothschild, and Marie-Hélène de Rothschild.
Her creations have been positively received with fashion journalists Hebe Dorsey of the International Herald Tribune and John Fairchild of Women's Wear Daily singing her praises. Following health problems in 1995, de Ribes was forced to dissolve her company.
On 14 July 2010, the French President, decorated her as a Chevalier of the Légion d'honneur at the Elysée Palace.
From November 19, 2015 – February 21, 2016, the Costume Institute at the Metropolitan Museum in New York City will feature "The Art of Style", an exhibition featuring items from de Ribes's wardrobe. The thematic show will feature about sixty ensembles of haute couture and ready-to-wear primarily from her personal archive, dating from 1959 to the present. Also included will be her creations for fancy-dress balls, as well as numerous photographs and ephemera, recounting the story of how her interest in fashion developed over decades, from childhood "dress-up" to the epitome of international style.